I'm back and badder than before
Well, maybe not really "badder". I don't think that's even a word. But a lot has been going on. Since my last note, we moved into the nice big house. I've mastered the stairs, figured out the backyard (the poinsettias are gone - all we have now are some pine needles from the dogs who live next door), and found a favorite new walking spot behind something called WaWa. They have a big bird on their sign, and in the morning when we go for my first trip, there are ALWAYS lots of people to bark at and pigeons to chase. I'm STILL not allowed off the leash, but that's not because I'm bad - it's because of something called "insane traffic". There are all these cars that go by, and so fast! It's so much fun to watch.
I've also mastered getting in the car! My human bought a new car JUST FOR ME! Well, I don't know if it's mine, exactly, but she said that she wasn't going to buy a "hatchback" because I wouldn't fit. I don't know what a hatchback is, but I don't like anything I don't fit in. I have my own blue blanket in the car, a few bones, and I even have my own seatbelt. It's pretty cool, and I've gotten to go to my old dog park a bunch. She won't let me drive, though. I keep telling her I can keep my eyes on the road, and paws on the wheel, but she's not having it.
We've done all sorts of fun things in the last few months, like go to the country to play with Barrett and Boomer and Pita. My favorite thing to do is run in and out of the door and play with my red soccer ball. Here's me and Barrett. He's trying to go back inside, but I still want to play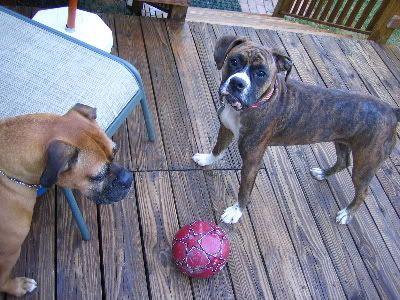 .
And then he DID go back inside.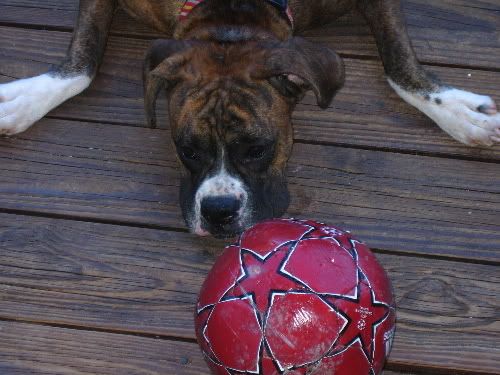 I was so sad. I get to see him this weekend, though, after I get my stitches out, so I'm pretty excited. I got stitches because I had to get needles in my paw last weekend. Something happened with one of my claws, and man - it wasn't painful, but it sure looked gross! We were in the country when it happened, so my humans had to drive as fast as they could to the vet - which was two hours away! I just slept in the car, but I could tell they were nervous. But never fear, I'm fine. Because I've not been allowed to play properly, my human and I had a photo shoot one night. Here's some of my favorites:
This is me making my Scooby Doo face. He's a bit of a pansy, and he ruined it for us dogs. Not all of us can talk, and believe you me, if I could - I wouldn't sound like such a twit.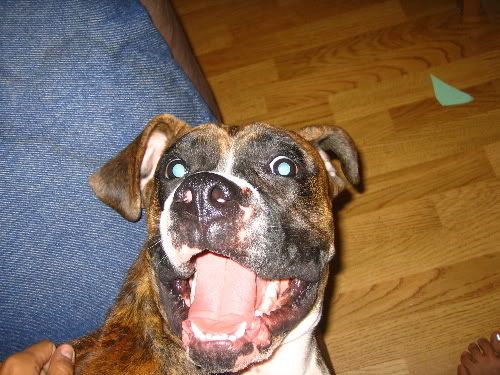 Here's me with my party face on: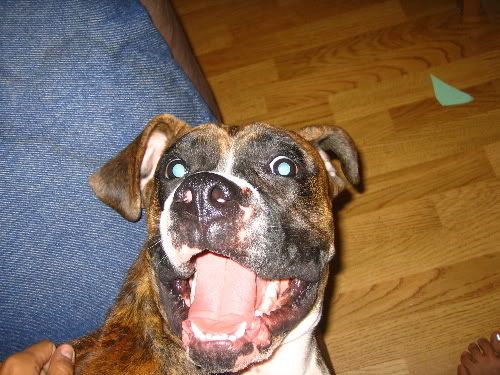 And here's me giving my human a kiss. Well, I tell her it's a kiss. Really, she just had some pizza on her chin she'd missed: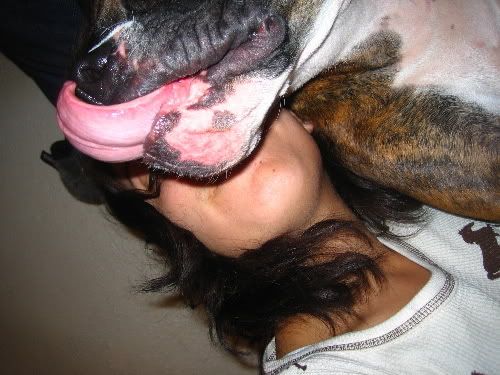 My favorite thing I did this fall was go to the park, though. Not the dog park, mind you. A REAL park, with these flying ducks that go in the water, and these HUGE things called HORSES. They didn't like me much, and I thought they smelled funny. So who cares about them anyway?
Well, for a split second, I did. I wanted to see one up close!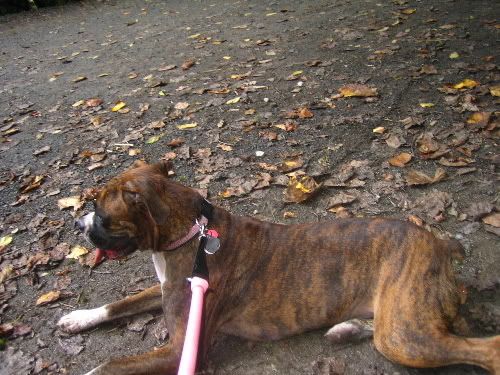 But he wouldn't come any closer.
Then I saw leaves - it's really my first Fall with trees around. The leaves taste DELICIOUS.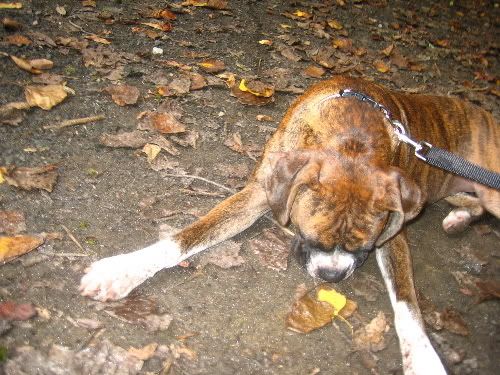 My other favorite thing has been puppy school. I have a lovely trainer (can you believe it? I have a trainer! My HUMANS don't even have them! Then again, they don't pee on the floor. But still!). Her name is Stacey, and I jump and kiss her every time I see her. I learned a lot of things, like stay, and sit, and roll over - but mostly, I got to play with other dogs. There's a huge, big baby of a German Shepard named Polo - he's nice but really rambunctious. And a little dog shaped like a football called Sammy. I always want to play with Sammy, but she hates me.
Anyway, I missed my graduation because of my surgery, but I'm going next Wednesday! I get to see Stacey, do all my tricks, and I GET TO WEAR A HAT! Just wait, world! Here I come! With pictures!
I can hear a plastic bag rustling, so it's time for my walk. Sorry it's been so long, friends. I'll be sure to update more.
Love,
Stella
Oh hey, I meant to ask - if I wrote a kid's book about my travels, and my big sister Sadie, would anyone read it? I doubt it'd be a moneymaker, but at least I could get famous.